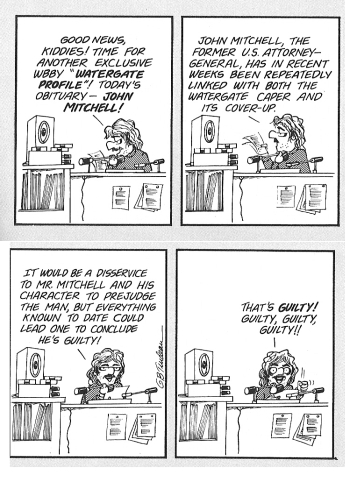 Sarah Palin abused her power when she fired the state's public safety commissioner, because he wouldn't fire her former brother-in-law. That's not mavericky. That's unprincipled hackery. Heckuva job Sarah!
NYTimes: Alaska Inquiry Concludes Palin Abused Powers
Gov. Sarah Palin abused the powers of her office by pressuring subordinates to try to get her former brother-in-law, a state trooper, fired, an investigation by the Alaska Legislature has concluded.
(PDF file) Stephen Branchflower Report to the Legislative Council
1. For the reasons explained in section IV of this report,

I find that Governor Sarah Palin abused her power

by violated Alaska Statue 39/52/110(a) of the Alaska Executive Branch Ethics Act. Alaska Statute 39.52.110(a) provides

The legislature reaffirms that every public officer holds office as a public trust, and any effort to benefit a personal or financial interest through official action is a violation of that trust.

2. I find that, although Walt Monegan's refusal to fire Trooper Michael Wooter was not the sole reason he was fired by Governor Sarah Palin, it was likely a contributing factor to his termination as Commissioner of Public Safety. In spite of that, Governor Palin's firing of Commissioner Monegan was a proper and lawful exercise of her constitutional and statutory authority to hire and fire executive branch department heads.

3. Harbor Adjustment Service of Anchorage, and its owner Ms. Murleen Wilkes, handled Trooper Michael Wooten's workers' compensation claim properly and in the normal course of business like any other claim process by Harbor Adjustment Service and Ms. Wilkes. Further, Trooper Wooten received all the workers' compensation benefits to which he was entitled.

4. The Attorney General's office has failed to substantially comply with my August 6, 2008 written request to Governor Sarah Palin for information about the case in the form of emails.
To understand the finding of guilt, you have to know what she was charged with. From
emptywheel
at firedoglake:
The meat of the abuse charge, from page 66:
Governor Palin knowingly permitted a situation to continue where impermissible pressure was placed on several subordinates in order to advance a personal agenda, to wit: to get Trooper Michael Wooten fired.

She had the authority and power to require Mr. Palin to cease contacting subordinates, but she failed to act.

Such impermissible and repeated contacts create conflicts of interests for subordinate employees who must choose to either please a superior or run the risk of facing that superior's displeasure and the possible consequences of such displeasure. This was one of the very reasons the Ethics Act was promulgated by the Legislature.