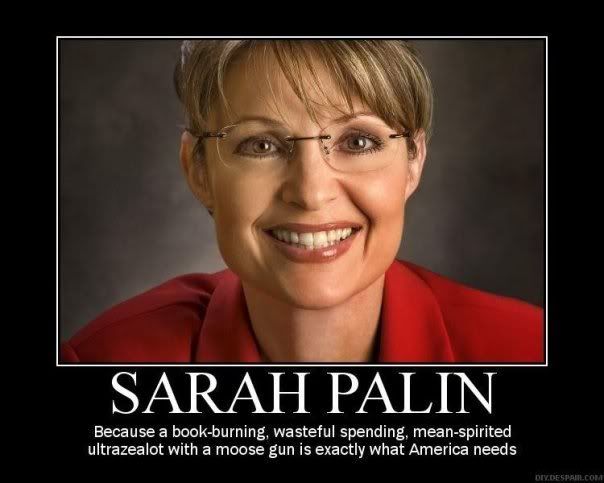 Ha, ha. The St. Petersburg (FL) Times has been running focus groups, and this week their group shows a dramatic shift to Obama. The reason? Sarah Palin. She scares them.
Maybe they didn't put enough lipstick on that pitbull.

One thought pushes fence-sitters to the left: Palin

ST. PETERSBURG — Five weeks ago, the St. Petersburg Times convened a group of Tampa Bay voters who were undecided about the presidential election. Their strong distrust of Barack Obama suggested it was a group ripe for John McCain to win over.

Not anymore.

The group has swung dramatically, if unenthusiastically, toward Democrat Obama. Most of them this week cited the same reason: Sarah Palin.



"The one thing that frightens me more than anything else are the ideologues. We've seen too many," said 80-year-old Air Force veteran Donn Spegal, a lifelong Republican from St. Petersburg, who sees McCain's new running mate as the kind of "wedge issue" social conservative that has made him disenchanted with his party.

[]

Of the 11 undecided voters participating in the discussion one recent evening at the Times — four Republicans, five Democrats, and two registered to no party — only two Republican men applauded the selection of Palin.

Nobody had finalized a choice, but seven of the panelists said that McCain's running mate selection had made them more likely to vote for Obama, and in several cases much more likely.