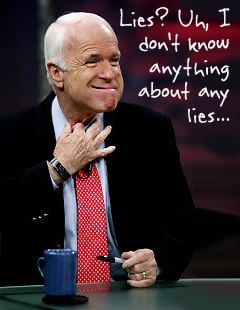 The media has always been John McCain's base, laughing along with him on the bus and at the barbecues, accepting his lame excuses for all his wild flips and gyrations on policy. No more.
Richard Cohen, WaPo: The Ugly New McCain
[]
He has become the sort of politician he once despised.

The precise moment of McCain's abasement came, would you believe, not at some news conference or on one of the Sunday shows but on "The View," the daytime TV show created by Barbara Walters. Last week, one of the co-hosts, Joy Behar, took McCain to task for some of the ads his campaign has been running. One deliberately mischaracterized what Barack Obama had said about putting lipstick on a pig -- an Americanism that McCain himself has used. The other asserted that Obama supported teaching sex education to kindergarteners.

"We know that those two ads are untrue," Behar said. "They are lies."
Freeze. Close in on McCain. This was the moment. He has largely been avoiding the press. The Straight Talk Express is now just a brand, an ad slogan like "Home Cooking" or "We Will Not Be Undersold." Until then, it was possible for McCain to say that he had not really known about the ads, that the formulation "I approve this message" was just boilerplate. But he didn't.

"Actually, they are not lies," he said.

Actually, they are.

McCain has turned ugly. His dishonesty would be unacceptable in any politician, but McCain has always set his own bar higher than most. He has contempt for most of his colleagues for that very reason: They lie. He tells the truth. He internalizes the code of the McCains -- his grandfather, his father: both admirals of the shining sea. He serves his country differently, that's all -- but just as honorably. No more, though.
[]
McCain has soiled all that. His opportunistic and irresponsible choice of Sarah Palin as his political heir -- the person in whose hands he would leave the country -- is a form of personal treason, a betrayal of all he once stood for.
Palin, no matter what her other attributes, is shockingly unprepared to become president.
McCain knows that. He means to win, which is all right; he means to win at all costs, which is not.
[]
But Joy Behar knew better. And so
McCain lied about his lying
and maybe thinks that if he wins the election, he can -- as he did in South Carolina -- renounce who he was and what he did and resume his old persona. It won't work. Karl Marx got one thing right -- what he said about history repeating itself.
Once is tragedy, a second time is farce. John McCain is both.