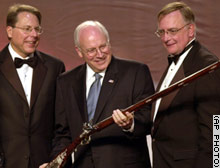 From Capitol Hill Blue. I know, I know, they're the blog version of the National Enquirer, but you know what? Some times the Enquirer is right. And the 22 hour delay in reporting this accident, the turning away of the investigator the night it happened, the party going back to the ranch for dinner and cocktails while the victim lay in a hospital bed, all those things tell me this is true:
Secret Service agents say Cheney was drunk when he shot lawyer
Secret Service agents guarding Vice President Dick Cheney when he shot Texas lawyer Harry Whittington on a hunting outing two weeks ago say Cheney was "clearly inebriated" at the time of the shooting and a written report outlining details of the incident has been destroyed, sources tell Capitol Hill Blue.



Agents observed several members of the hunting party, including the Vice President, consuming alcohol before and during the hunting expedition and Cheney exhibited "visible signs" of impairment, including slurred speech and erratic actions.



According to those who have talked with agents and others present at the outing, Cheney appeared drunk when he gunned down his friend and the day-and-a-half delay in allowing Texas law enforcement officials on the ranch where the shooting occurred gave all members of the hunting party time to sober up.

We talked with a number of administration officials who are privy to inside information on the Vice President's shooting "accident" and all admit Secret Service agents and others saw Cheney consume far more than the "one beer' he claimed he drank at lunch earlier that day.

"This was a South Texas hunt," says one White House aide. "Of course there was drinking. There's always drinking. Lots of it."