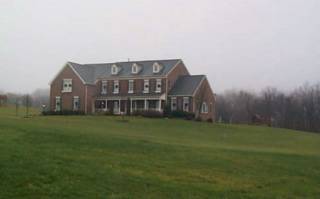 Senator Rick Santorum (R-PA) is financing a lavish lifestyle by using a political action committee to pay for coffee and groceries, and by using his position to get a shady mortgage to buy a home he otherwise couldn't afford. Via atrios:
Tha American Prospect: With A Little Help From His Friends
The estates at Shenstone Farm sprawl over 500 acres of steeply rolling, barren hillside, at the point where northern Virginia's traffic-clogged suburbs finally surrender to the foothills of the Blue Ridge Mountains. On an unseasonably warm January day, this former horse farm is shrouded in fog so dense that a visitor could imagine a band of gray-clad rebel soldiers emerging from these hilltops in the heart of Civil War country.

Instead, what slowly takes shape from the gloaming are well over 100 McMansions, with more on the way -- massive brick structures jutting out like solitary fortresses, each surrounded by roughly four acres of treeless, lunar-like landscape, with three-car garages and sconce-topped brick monument pillars at the foot of each long driveway. Most sport pricey wood playsets in the backyard.

It is here, some 43 miles by car and a world away from Capitol Hill, that Pennsylvania's junior U.S. senator, Rick Santorum, and his wife, Karen, bought a home on November 14, 2001, for $643,361 (now assessed by Loudoun County at $757,000). It is here that the most outspoken social conservative in the Senate is raising his six children in the manner he described in his book last year, which caused so much controversy back in the state where he is seeking a third term this fall. And it is here that Santorum departs most mornings for his newest mission: crafting a package of Senate ethics reforms aimed at removing the stain of the Jack Abramoff lobbying scandal.

The Santorums bought their oversized Shenstone "estate" even though his financial disclosure forms since 2001 have shown little family income beyond his Senate salary, now $162,100, and he admits that life hasn't been financially easy. The senator made a startling remark to The New York Times Magazine last spring: "We live paycheck to paycheck, absolutely." But he explained that his parents help out. "They're by no means wealthy -- they're two retired VA [Veterans Administration] employees -- but they'll send a check every now and then," he said.

The Prospect decided to heed Santorum's advice by taking "an honest look at the family budget" -- his family budget. What we found is that Santorum's exurban lifestyle is financed in ways that aren't available to the average voter back home in Pennsylvania -- namely

a political action committee that lists payments for such unorthodox items as dozens of trips to the Starbucks in Leesburg, a number of stops at fast-food joints, and purchases at Target, Wal-Mart, and a Giant supermarket in northern Virginia.

Although a Santorum aide defends those charges as legitimate political costs, good-government experts say the expenditures are at best unconventional, and at worst a possible violation of Senate rules, and the purchases appear to be unorthodox when compared with other senators' filings. Santorum's PAC -- a "leadership PAC," whose purpose is to dispense money to other Republican candidates -- used just 18.1 percent of its money to that end over a recent five-year period, a lower number than other leadership PACs of top senators from both parties.

These facts may well raise questions in Pennsylvanians' minds about how the senator is conducting their business in Washington. But it is Santorum's Virginia home that raises the hardest questions for the third-ranking Senate Republican.

* * *

Initially, according to Loudoun County property records, the purchase was financed with a $405,000 mortgage from a conventional lender, Westminster Mortgage Company. But a year later, the couple refinanced for $500,000. That was not unusual in the fall of 2002, when many homeowners were refinancing to take advantage of plunging interest rates, while also cashing in on the rising equity in their homes.

What was curious was the source of the increased mortgage. It was a new private bank catering to "affluent investors and institutions" -- whose officers have contributed $24,000 to Santorum's political action committees and re-election campaign -- called Philadelphia Trust Company.