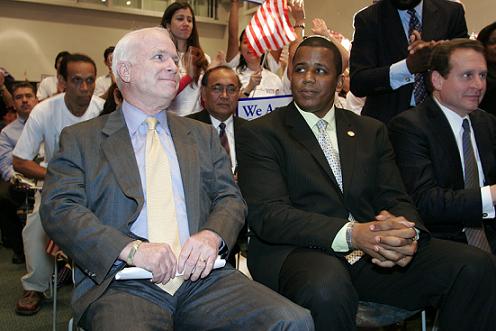 John McCain attends ACORN-sponsored conference, March 2006
HuffPo: ACORN: McCain And GOP Used To Be Supporters
Republican Presidential Candidate
John McCain
, Florida Governor
Charlie Crist
, Texas Governor
Rick Perry
, California Governor
Arnold Schwarzenegger
, Minnesota Governor
Tim Pawlenty
, former Massachusetts Governor
Mitt Romney
, Connecticut Senator
Joe Lieberman
, New York City Mayor
Michael Bloomberg
, all have supported ACORN's work and appeared with members of the organization -- all in the past three years.
And now
ACORN is the boogeyman
, because Republicans don't have any issues to run on. Oh, and don't forget that many of the leaders of ACORN are black. Race-baiting, anyone?