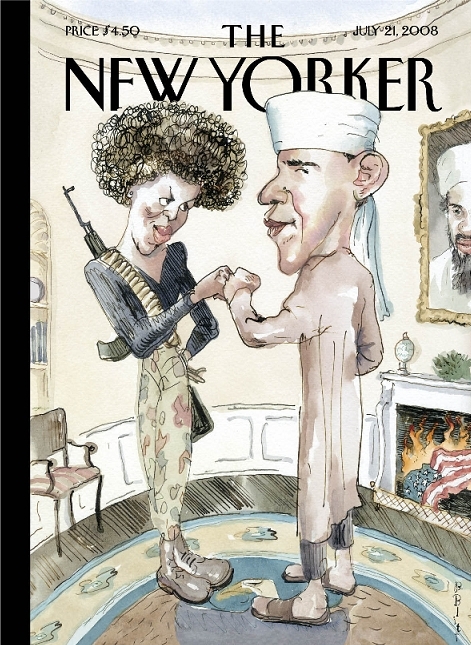 This is the cover of the New Yorker this week. Thankfully I discontinued my subscription a few years ago, so my money didn't go into making this monstrosity.
It's every rightwing email in one loathesome caricature. Obama as a Muslim, certainly a foreigner, perhaps Osama himself; Michelle Obama as Angela Davis, or a Black Panther, or a member of Osama's bodyguards; the terrorist fistjab (thank you
E.D. Hill
for
that
turn of phrase), Osama bin Laden in the picture on the wall, the American flag burning merrily in the fireplace, all set in the Oval Office.
I look forward to their companion cover on McCain. A caricature of him in a pair of Depends underwear, holding out his empty wallet, to his wife encrusted with diamonds, asking for a little more?
A cartoon of McCain depicted as a canary, singing "Vietnam Rules, America Drools" at the Hanoi Hilton?
Or a cartoon showing McCain kicking his first wife and kids to the curb, her cane and their little baseball caps flying, as he holds onto Cindy McCain's miniskirt made of $100 bills?
Or just a naked McCain, from behind, his wrinkled white ass as he screws Uncle Sam (us)?
Hey, it's satire, right, and all's fair in modern journamalism. Wes Clark couldn't tell the truth, that being shot down and held captive don't qualify you to be President. The media attacked him like he'd said John McCain wears a G-string and pasties under his suit. But "journalists" and "publishers" and "the media" can put out complete and utter garbage like this cover and will hide under their handy First Amendment umbrella. Free press! Free press!
How free is a press that, like Chatty Cathy on steroids, regurgitates conservative propaganda every time the string is pulled?
The hitjob piece it illustrates can be read here
, but don't miss the
soft wet kiss the same writer, Ryan Lizza, wrote about McCain
in February in the very same magazine. Or save yourself the time. Shorter Ryan Lizza: Obama bad, McCain good.
Lizza has a long, sad history of advancing right-wing memes, as it was
he who named the Democratic plan for withdrawing our troops from Iraq "the slow-bleed plan"
, a phrase which was eagerly adopted by Fox News and their Republican overlords.
Journalism is dead. Long live the rotting press corpse.