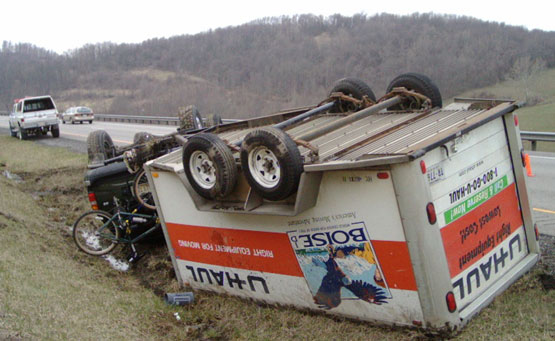 I did it -- twice, to my shame, because I should have known after the first fiasco -- and both times got an ancient vehicle that was unsafe. First time I rented a trailer. The trailer wasn't ready on the day I asked for it, so I had to load it without assistance. It was over 21 years old and had bald tires. They told me it was the only one they had, and I had a schedule to keep. I blew a tire on the trailer on the Mass Pike and was lucky to be able to steer to the shoulder. Waited two hours for the tire to be replaced.
My second UHaul experience was with a 16 foot box truck. It was old but seemed fine until after I had loaded it and got onto the highway. At speeds over 55 MPH the passenger mirror wouldn't hold. So now I was in a truck with no rear view mirror on Route 95 in Maryland, and only a driver's mirror. I couldn't move into the left lane unless I passed a vehicle, then saw that same vehicle in my driver's mirror, and just hoped that no one had jumped in from the left. Most harrowing 9 hours of my life.
Now that I've read the LATimes series on UHaul, I see that I wasn't alone and that no one -- NO ONE -- should ever rent a UHaul. UHaul's policies kill.
They keep vehicles on the road for many years, long after their competitors take them off the road.
Among U-Haul's 100,000 trucks are many aging, high-mileage vehicles. Many have logged more than 100,000 miles.

A recent court filing by U-Haul underscored the fleet's age: A company executive, referring only to the type of truck rented to Waldrip, said

4,595 of them were still on the road with 200,000 miles or more

.

U-Haul has purchased about 38,000 new trucks over the last two years and has sold nearly as many older ones. But the company says it does not automatically retire vehicles at a fixed mileage or age.

Penske Truck Leasing, one of U-Haul's two major competitors, says that it replaces up to half its consumer rental fleet every year and that its oldest trucks are about 3 1/2 years old. Budget Truck Rental says the average age of its trucks is 2 to 2 1/2 years.
And they don't maintain them. They might as well call UHaul Rent-a-Truck-Wreck, because their equipment is hazardous to the health of their customers:
During a yearlong investigation, Times journalists surveyed more than 200 U-Haul trucks and trailers in California and other states and found that more than half were overdue for a company-mandated "safety certification," a check of brakes, tires and other parts typically required every 30 days.

Some safety checks were more than a year overdue.
Then when their customers are maimed or killed,
they cheat to win lawsuits
. Despicable.

LATimes: PART ONE: Trailer Sway
How U-Haul policies have increased the risk of towing accidents.
LATimes: PART TWO: Maintenence and Complaints
An aging fleet and spotty maintenance result in breakdowns and worse.

LATimes: PART THREE: Missing Evidence
When sued over accidents, U-Haul has repeatedly lost or spoiled evidence.

LATimes: Ruling struck at reservations policy
U-Haul agents are told to accept all reservations, even if they don't know if equipment will be available.