One of the Juice Boys is back in the headlines: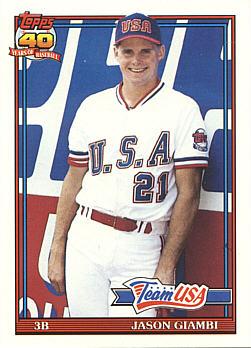 On the left is Jason Giambi in 2006; to the right is his rookie card.
Boston Globe: Report: Giambi failed amphetamines test
NYDailyNews: Exclusive
Giambi meets with MLB officials
Red Sox Nation will never forget
Game 7 of the 2003 American League Championship Series
, (aka
the Bronx Robbery
) where long before Grady left Pedro in too long, long before Aaron Boone put himself into history with his walkoff homer against Tim Wakefield in the 11th inning, juiced Jason Giambi hit two solo homeruns. No juice, no comeback, no win. I repeat my call for the tiny hypodermic needle to be placed next to the stats of every one of these cheaters.