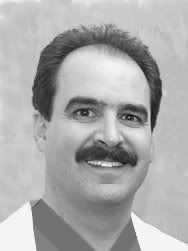 That's Dr.
Eric Keroack
, the Bush Administration's controversial appointee to oversee birth control programs as Deputy Assistant Secretary for Population Affairs at the Department of Health and Human Services.
He resigned suddenly amidst reports that he was being investigated by the Massachusetts Board of Registration in Medicine for Medicare fraud. He looked thin on paper; a guy who was head of one of those fake groups that pretends to help pregnant women but really hard sells them away from abortion. Now, turns out that behind the paper there's even less. He barely practiced medicine in his life -- if he ever did. Another Heckuva Job appointee from the Chimpcompetent One.

Raw Story: Heckuva job? Bush Administration vaunted bogus credentials for birth control czar, records show
HHS officials repeatedly cited Keroack's long tenure in private practice as one of his key qualifications, along with his highly publicized role as medical director for a chain of Christian pregnancy centers.

According to the Washington Post, "Eric Keroack, a nationally known advocate of abstinence until marriage, served for more than a decade as medical director for A Woman's Concern, a Massachusetts nonprofit group that discourages abortion and does not distribute information promoting birth control. But HHS spokeswoman Christina Pearson said yesterday that most of Keroack's professional time had been devoted to his

private practice of 20 years

, not the group."

Documents and interviews with Keroack's associates, however, show that the post of medical director was merely a part-time or volunteer job. Keroack's claims of an extensive private practice also appear dubious.