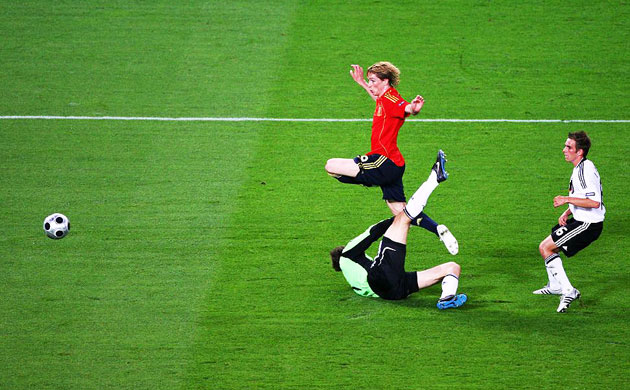 [Fernando] Torres executes a perfect chip over the onrushing Lehmann to give Spain the lead
Photograph: Jamie McDonald/Getty Images
Spain defeated Germany 1-0 in the Euro 2008 final this afternoon. A well-deserved win by Spain which played beautiful attacking football throughout the tournament.
The goal came from Liverpool striker Fernando Torres who dominated the first half. Perhaps inspired by the Spanish fans who
according to the Telegraph
sang "You'll Never Walk Alone" before the game. The article also notes:
It was a glittering goal that echoed another final gem by a Liverpool striker, Kenny Dalglish's elegant chip over the Bruges goalkeeper, Birger Jensen, to win the 1978 European Cup.
After the game was over, Sergio Ramos celebrated in a white no. 16 shirt in tribute to his fellow Sevilla youth system friend
Antonio Puerta
, who died tragically at the age of 22 after suffering a heart attack during a game last year.

Guardian (uk): Viennese waltz for Spain as Torres goal wins Euro 2008

Telegraph (uk): Fernando Torres' strike wins Euro 2008 for Spain as Germany say goodnight Vienna
Independent (uk): Germany 0 Spain 1: Torres' flash of steel and skill dispatches laboured Germans
Goal.com: Player Rater
Telegraph (uk): Picture Gallery

BBC Sport: Photo Gallery